How to Name Your Meeting and Conference Rooms
17.12.2019
To think of names for your meeting rooms is no easy task, especially if your company works in dozens of meetings rooms or even globally. However, this is a challenge small-sized businesses have to face, as well. Here are a few tips on how to choose the best names.
Your company's vision and personality
Pick names that reflect your brand to make sure you get your story heard, especially if it's a strong one. Companies often invest millions into their brand but overlook what might seem like details, but what in fact boosts their brand identity. Remember that such details will impact how both general public and the employees feel about your company.
To support your brand, pick a theme for your meeting room names. Such a project will involve not only your IT department, but also the marketing team who know the company's visions, goals and values best. The ultimate goal is to create a theme that will make sense for your company's unique culture.
What are we trying to communicate?
Ask yourself one question right at the start: how do we want our brand to be reflected in our offices? To support the theme's underlying psychology, make use of symbols. Symbols communicate our beliefs and values. They are interpreted in an obvious and universal way, which makes them great to use in room names.
Anything can become a symbol, including people, usually the company's owner. If your company sells sports bikes, the owner is likely to be a keen cyclist and sportsperson. Why don't you name your meeting rooms after Tour de France stages or the world's greatest cyclists? If your business is a leading financial corporation, tell your story. Behind every strong brand there's a story; more often than not, it may be an urban legend, but it serves its purpose.
Invite employees to participate
You want your employees to feel good in the meeting rooms. Asking them to take part in the name-our-meeting-rooms project will definitely pay off. It may well change the way they see the office environment and create places spreading positive energy and motivation. And it's worth noting that it will also make your introduction and implementation of MeetingRoomApp easier. Do you want your employees to be excited about their work? Create the best working conditions possible.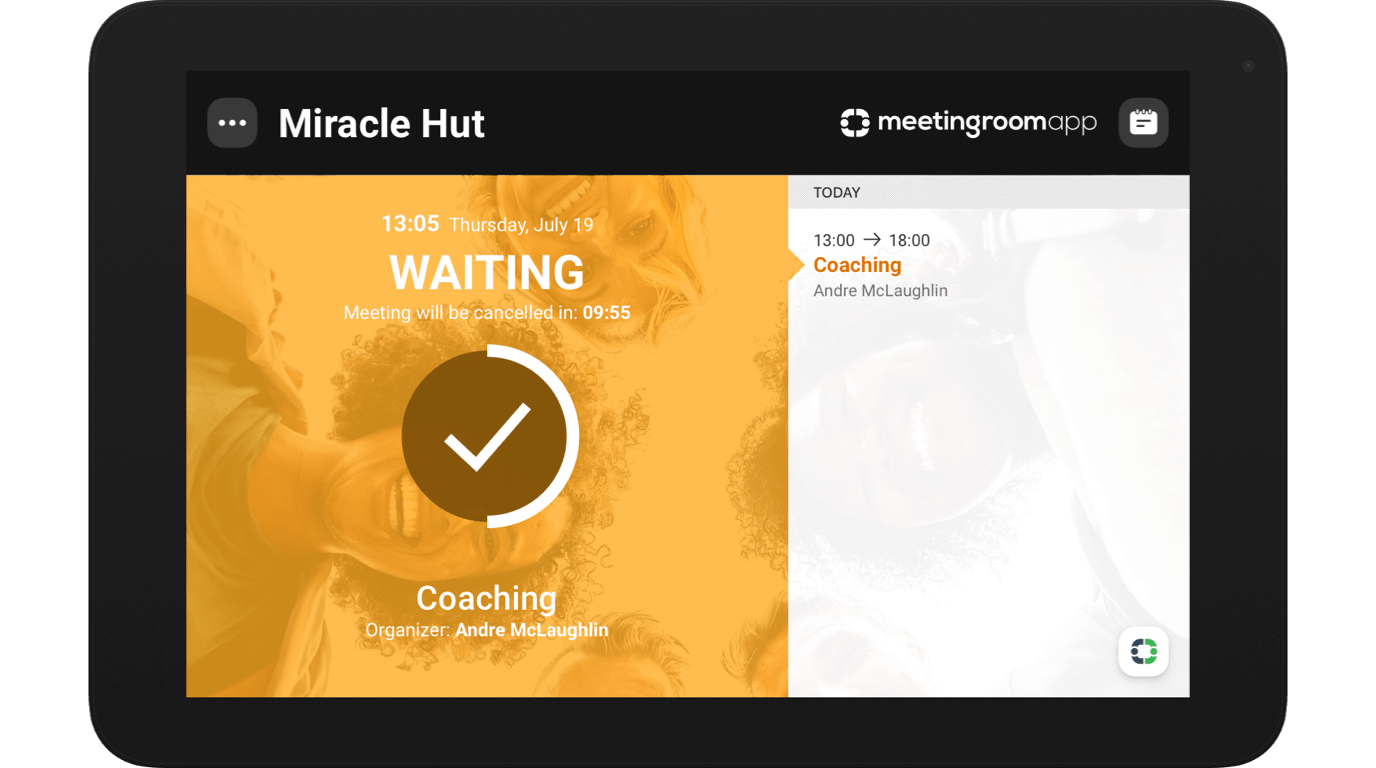 Technical aspect
One of the goals of the theme is to boost the company's image; the other one is to create a stable and logical system. Make sure each of the meeting rooms holds a unique identifier. To do so, you may want to create an email address that looks like this:
country_city_campus_building_room_@_organization_com Country_NY_Broadway_MorganFreeman_@_organization_com
If your company uses a .de domain, the logical thing to do is to leave out the country etc. When choosing the room name, take into account also its length and avoid the unnecessary 'meeting room'. And remember that taking an original approach makes the room names easier to remember, on the other hand a short name will make sure it can be read clearly on the room display.
Our little tip
While you're creating room names in the MeetingRoomApp admin section, you can add a number, symbol or emoticon to the room description. A number can indicate the floor the room's on or its capacity. This will make user orientation both in the email client and on the room display easier. If you fill in the room capacity in Google Admin, the number will be included in the room name automatically.
For more tips, check out the article on Emoji in MeetingRoomApp.
Office navigation
Are you at your wits' end trying to choose the right room names with no marketing team to help you? Use a system that has worked effectively for hundreds of years. Name the rooms after the floor and door number, just like at a hotel (e.g. room No. 201). While this may not be the most original system, it's definitely effective and you save millions on indoor navigation system.
A system that is as effective yet more sophisticated is the Street Grid Plan, known in particular in the US where it's used to number streets. In Europe, a system where each street is given its own name is used. The name may refer to a building's owner, the appearance and nature of the street, an event or a patron saint of a local church.
Why don't you get inspired by these or other systems and build a little city or quarter right in your office building?